Select a topic >
Pac-Safe Security Neck Pouch
By Pac-Safe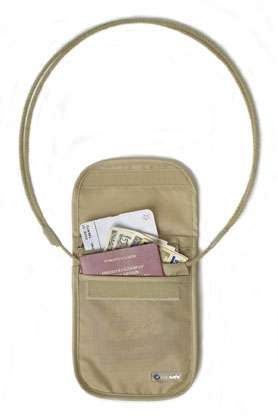 Looking for extra security for passports, travelers checks, cash or other valuable items, the
This is not your standard Neck Pouch. This security neck pouch by Pac-Safe is built specifically with extra security in mind to thwart both opportunistic, and slash and grab thieves. The neck pouch is designed by Pac-Safe. Unfortunately professional thieves are very aware that many travelers wear neck pouches. Many times thieves see the strap of the neck pouches when they walk behind travelers, and in some high crime rate areas, these thieves have simply snatched them from behind and ran.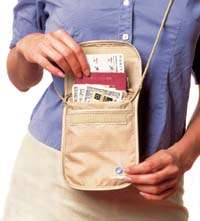 In a few unique cases, some street thieves have used a small knife to cut the strap from behind and fled.
Upon initial view, this security neck pouch looks like any traditional neck pouch. However, when you look closer, its design is like no other when it comes to providing maximum safety for your important items. The core security feature in this security neck pouch is its rear neck strap, which is both slash proof and adjustable. The strap features an ingenious design which incorporates a flexible, high tensile, stainless steel wire which is embedded into the strap. The strap is then covered with a rip stop, soft, cloth material, so wearing it is comfortable around your neck.
Deployment
The security neck pouch is designed to be worn under clothing. It is most commonly worn around the neck, however, it can we worn in a shoulder harness style, slung across the chest, with the pouch deployed under the arm pit.
Material
The pouch itself is comfortable to wear. It is made with a nylon, rip stop material, which has smooth external seams. The pouch features a moisture proof liner to keep your pouches contents clean and dry on even the hottest days. The backing of the security neck pouch is made from a combination polyester / cotton material which is breathable, and very soft to the touch when worn against the skin
Security Pockets
The security neck pouch offers great organization by the design and placement of its three pockets, all of which are protected by the external, full size Velcro security cover flap.
Once you open the security neck pouch, located at the top is the "Maximum Security Compartment"

which has two built-in security layers. The first is that the compartment is secured by a zipper, and second, the zipper itself can be locked in place by a special "Zip Safe" Velcro zipper security feature that provides additional security for the pockets contents during travel. The Maximum Security Compartment's internal dimensions are 6.5 inches deep by 4.5 inches wide. Of course, larger items can be placed in the pocket by simply folding it in half.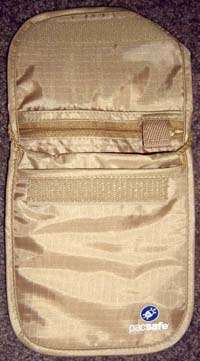 The two other stash pockets are staggered in front of security pocket and is used for the storage of passports, tickets, credit cards, or cash. They are the same size as listed above.
Dimensions and Weight
Weight: 2 oz.
Size: 7 x 5.5 inches (external dimensions)
To order this product, click here.
---