Concealed Neck Pouch - Travel Neck Pouch - Neck Wallet - Neck Stash
Concealed neck pouches and neck wallets have been around for many years. Travelers seem to either love or hate security neck pouches, due to their various advantages and disadvantages discussed here. Obviously, the concealed security neck pouch hangs around your neck and is hidden from view beneath your clothing. Neck wallets, of also referred to as a security neck pouch or neck safe, have been around for the last hundred years or so. They tend to be one of the most common type of money pouches purchased and are usually highly recommend by experienced travelers.
However neck wallets do get some complaints. The neck pouch is made hang under your clothes. The biggest complaint is that depending on the type of shirt or blouse be worn, it may take a while to get to when needed. Men tend to use neck wallets more than women - mainly because they designed to be worn flat against your chest.. For women, the neck pouch should be adjusted to hang around the stomach area to prevent it from standing out against your clothes. Whenever possible, you do not want people to tell that you are wearing a money pouch around your neck. Because this item is worn underneath your shirt, be careful when selecting a color; tan or beige is often best as it is not too light or too dark.
One version of the security neck pouch that stands apart from the others are ones are versions which feature an anti-theft security cable. This cable is made of a stainless steel security wire and works to prevent the thief from grabbing the back of the neck pouch and jerking the pouch off of you. One downside to this product is that you can't wear it thru airport screening, as it will set off the metal detector. You simply need to put it in your carryon bag or purse to pass it thru screening them put it back on.
Advantages of Security Neck Pouches
While it seems that security neck have many disadvantages, the advantages outweigh the negative.
The biggest advantage of the hidden neck pouch is its ability to be hidden from thieves. What many travelers are unaware of is that neck wallets are available with or without a unique security feature - an anti-snatch security cable.
Woven into the neck strap of certain security neck wallets is a steel security wire, which is designed to prevent a snatch and run thief from grabbing the neck strap from behind and yanking it from around the traveler's neck. Additionally, some skilled street thieves in parts of Europe or 3rd world countries have been known to look for travelers wearing neck pouches.
Disadvantages of Security Neck Pouches
Some travelers note that neck safes can be uncomfortable to wear when it's hot, and many times it can be obvious you are wearing one depending on the type and color of blouse or shirt you are wearing, again making it very obvious you are a tourist. With women, the problem is that these pouches are designed to hang on a flat chest. You can, however, wear them horizontally below your chest area and above your waist. Some travelers have found out that the ink used on airline ticket smears greatly after a couple of months in the pouch. Putting them in a small plastic bag inside the pouch keeps out the moisture.


When considering the purchase of a neck pouch, think about one in a tan or beige color. A black one can sometimes be easily seen if you are wearing light colored clothing. Some travelers wear these items on their side, like a holster, slung around one shoulder. This way it's more discrete, no matter how large your chest is if you are a woman.


One major problem is when you go to retrieve an item from the pouch. If you are wearing it when you go to dinner at a nice restaurant, you will have to excuse yourself to the rest room in order to unbutton your shirt to retrieve your money or credit cards. This may not be a problem if you are a student and back packing your way across Europe.


If a thief recognizes the pouch or can see the strap around your neck (they are not that hard to recognize) the strap can be easily cut from behind by a skilled pickpocket. A way to help avoid this would be to sew a piece of piano wire into the strap make it more durable in case it was cut from a snatch and run thief. It might be painful but in general the thief should take off running if he or she did not get it the first time.
This was the first security neck pouch of its kind, and is the most popular when it comes to the travel neck pouches with an anti-slicing wire embedded into the neck strap (see above photo). The PacSafe Coversafe X75 designed to fit flat against your body in order to help keep it concealed. Made of rip-stop nylon, the pouch has a moisture proof liner and is hand washable.
A larger version of the Coversafe X75 is available for those who have a larger amount of items. The Coversafe V150 holds more items, is RFID blocking and also allows it to be worn exposed if needed.
For those that are looking for a standard neck wallet, without the additional security features, the Travelon Neck Wallet is the standard. It offers all of the organizational compartments that a traveler would need to hold they airline tickets, passport, identification, and other items needed when out and about.
Additionally, this neck wallet also features RFID protection of your passports electronic chip, as well as all of your credit cards that have the new RFID chip that allows for easy scanning of your cards thru your wallet, into an electronic capture machine. While this is a great card feature - it is one that you want to block when you are not using your credit cards.
For more information about RFID credit cards, here is an interesting link of electronic pickpocketing articles, videos, as well as information on other credit card scams that travelers should be aware of before they leave on a trip. For additional information on other types of security pouches, visit this link at www.CorporateTravelSafety.com.
Security Waist Wallets

Security waist wallets have been worn by travelers as long as anyone can remember and are one of the most popular ways for travelers to carry money and valuables when hidden.
Typically about ten inches long and four inches wide with a strap which goes around your waist. It has a zipper with one or two compartments, weighs about two to 10 ounces and costs anywhere from $10 to $30.00, depending on the security features. It can be worn either tightly against the stomach with your shirt or blouse covering it, or dropped loosely into the pants.
Typically security waist wallets are worn by those who want to make sure their money and valuables are safe from street thieves and/or may venture into areas that have a higher level of street crime.
Some travelers like the added security of a hidden waist wallet because if they were robbed by street thieves, they are typically known to check your pockets for cash or a wallet, but are generally not know to ask victims to drop their pants in order to check for a waist wallet.
If you always remember to carry "robbers money" (just a few dollars in your pocket) you will always have something to give an aggressive street robber if needed. Like other types of hidden money wallets, security waist wallets come in a variety of styles to protect your valuables. The money belt can be worn either tightly against the stomach with your shirt or blouse covering it, or dropped loosely into the pants.
The CoverSafe X100 RFIF Blocking Hidden Waist Wallet looks like any other waist wallet, except with the addition of one major security feature - a steel cable is woven into the back strap of the hidden waist wallet. This slash proof, wire-reinforced back strap security waist wallet is designed to be tucked under your clothes for no one to see. This feature protects the hidden waist wallet from being cut or tugged off from behind.
This waist wallet also features two locking zippers to keep your valuables safe and secure without compromising comfort. Compare these features against other security waist wallets and you will see why these stand out from other less expensive versions on the market.
To view more information about this type of security waist wallet, click here. For many, this is an alternative to visible waist packs. Another bonus feature of this wallet is that is is also RFID blocking.
Hidden Pocket Wallet - Belt Loop Wallet
About half the size of the waist type. It hangs inside your pants from your belt or belt loop. It is made out of nylon, cotton or leather, has one or two zippered compartments. It is very easy to whip out when needed and does not draw a lot of attention if you have to get to it to pay for a meal. Most of these times are small, just large enough to hold your passport, money, and a very small pack of airline tickets.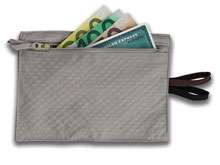 One of the things you should consider when considering a belt loop wallet is that you purchase one that has dual color belt loop. This allows you to wear the belt loop wallet with black belt or brown belt and the belt loop would not stick out for the world to see.
Not recommended if you wore a white belt, the black or brown belt loop would stand out like a sore thumb. Usually the wallet is available in black or tan. Security loop wallets are usually designed with a variety of security pockets, so make sure you find one that fits your needs.
The Lewis & Clark Belt Loop Wallet has three separate security pockets. The first is the main pocket which is zippered so that the wallet can be opened from the top or the side (depending on size of the items in the wallet).
Two additional pockets are sewn inside the main compartment and are designed for credit cards or other smaller items. If you are wearing white shorts and a white belt, the black belt loop of the money wallet would stand out - something to consider. Usually the wallet is available in black or tan. Learn more about the hidden pocket wallet (loop wallet).
If you are looking for a larger version of this type of wallet, which has pockets for credit cards, and related items, the Secret Hidden Sliding Belt Loop Wallet is the nest choice. This type of wallet is a great choice in this category, and looks just like a regular wallet, except that it has a lip to slide around your belt to keep it safe from slick fingered pickpockets
Leg Pouch Money Belt
The leg safe or leg wallet, is another version of a hidden money pouch that straps around your calf, just above the ankle. These are used by some travelers in bandit areas (this doesn't apply to 99.99% of us) since it remains hidden if a bandit forces you to drop your pants to display your waist money belt. The following are a few of the different versions of leg wallets - leg safes on the market today.
This device straps around your calf, just above the ankle. These are used by some travelers in bandit areas (this doesn't apply to 99.99% of us) since it remains hidden if a bandit forces you to drop your pants to display your waist money belt. In this version, the Austin House Leg Wallet is manufactured with a cool, lightweight and durable poly/cotton soft material, which is specially treated with Agion™.
The leg safe leg wallet is also made with the advanced Dupont material called COOLMAX®, which is the lining sewn onto the back of the leg safe leg wallet. This material is designed to move moisture away from the body, which helps keep in keeping the person cool and comfortable.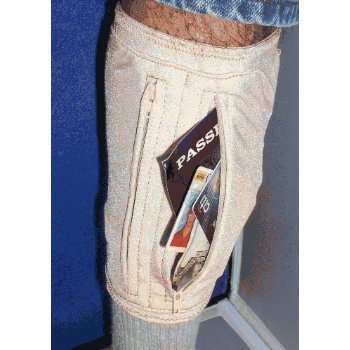 The leg safe leg wallet has three individual security pockets. The top pocket is 6 1/2 inches deep by 5 1/2 inches wide. The second pocket is 5 inches deep by 5 1/2 inches wide.
These two top pockets are designed to hold items such as cash, passports, traveler's checks, or anything else that can be folded to fit into these large pockets. Additionally, inside the middle pocket is a smaller, hidden pocket designed to hold credit cards. The final pocket is at the bottom and is 2 1/2 inches deep by 5 1/2 inches wide. Each of the three larger pockets are secured by a metal locking security zipper. The adjustable straps are elasticized with fabric tabs, which adjust to fit all sizes. Each of the leg safe's straps has been tested for maximum expansion of 10 inches.
Leg Wallet Features Adjustable Calf Strap
The top of the Leg Wallet features a 1 inch wide adjustable Velcro strap that helps keep the leg wallet secure for those who have smaller calf muscles, and likewise, allows additional expansion for those with larger calves. Deluxe Leg Safe Holds Several Larger Size Items The Deluxe Leg Safe features two separate zippered security compartments, each sized 6 ½ inches tall by 4 ½ inches wide.
These large compartments allow a traveler to hold a variety of items such as credit cards, passports, tickets, money and more. Use the Deluxe Leg Safe pockets to hold your keys when jogging or walking the dog, or your ID and hotel key when strolling the beach. Hiding discreetly under clothes, the Deluxe Leg Safe is the perfect wallet for traveling running or sports. After times, some of these have become loose and items may fall out. Travelers should consider leg safes that feature actual zippers to secure possessions. To obtain more information on leg safes click here. They even make an RFID blocking leg wallet too.
Some travelers like to use a shoulder security pouch to secure their valuables when out and about. This type of hidden money pouch also has varied advantages and disadvantages. Many people like to wear these shoulder wallets when wearing a jacket, or under a blouse or shirt that they can lift up to get to the wallet. They are easy and comfortable to wear, however you do have to wear a jacket or button down shirt that you can open to get to the contents of the money shoulder pouch.
Now you can wear a money pouch without wearing a belt or using a clip! This is a brand new invention that solves the issue of wearing a concealed money pouch when you don't wear a belt, or have a clip exposed.
The "Conceal Wear" money pouch is the answer a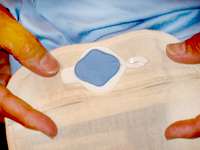 nd may prove to be one of the most versatile, secure, and comfortable travel/money pouch on the market today.
Designed to be easily attach to any clothing (shirts, shorts, socks, undergarments, etc.... and you don't have to worry about a belt.
The "Conceal Wear" money pouch is perfect for travelers, runners, walkers, or anybody who wants to protect their valuables.
Security Fanny Packs
Many travelers use fanny packs, or sometimes called waist packs but unfortunately criminals know that waist packs are "where the money is" and they are not as nearly secure as a money belt. These packs have become very popular over the last few years but the criminals have found them very prosperous too. The packs are great from the travelers point of view.
They hold a nice camera, wallet, passport, room key everything in one place. The professional thief likes it that way. Many stories have been told of travelers who had these packs stolen while standing on train/subway platforms.
The thief has a friend standing on each side of you to block the view of others standing around. You have no idea these people are crooks. They look just like others waiting for the train. The main crook is standing behind you with a small pair of scissors concealed in his hand. When the train arrives and the doors open, everyone is pushing to get inside when the crook behind you cuts the strap of your fanny pack from behind. You are being pushed inside by the other two crooks and never feel it drop into the crooks hands.


Two manufactures have developed products to address this issue by developing security waist packs - also known as security fanny packs. They have combined a variety of security features that help keep the contents of a security fanny packs safe from pickpockets. The following are a few of the features you should look for in a security fanny pack.
Slash Proof Rear Security Strap Embedded with Steel Cables
The rear of a waist pack is very vulnerable. Young street thieves in parts of Europe, Asia, and South America have become very aware that when Westerners carry waist packs, they have a good chance of carrying something of value.
These thieves have also learned that the rear strap of a waist pack is usually made out of simple material that is easy to cut with a pair is scissors or knife. It only a street thief only a second or two to cut the back strap of a cheap waist pack and have it fall into their nimble hands. To combat this type of theft, most security waist packs sew security cables into the rear straps.
A selection of security waist packs feature slice-resistant and flexible stainless steel braided cables sewn into the entire length of the rear straps. The steel cables then travel from the rear straps then go into the rear panels of the security waist packs in an effort to help provide additional strength from the strap being yanked out of the waist pack body.

These steel cables are invisibly sewn inside the entire length of the straps. In order to increase the cable's strength, they are made of 1/16 inch diameter stainless steel cables. The cables are woven into a hex pattern, which looks like this:.

This exclusive design feature keeps the strap from being sliced by a razor blade or knife from behind. Slicing the back strap of waist packs is common on a busy streets, in tourist areas and on crowded train platforms by thieves. The rear strap of the security waist packs are adjustable like a regular waist pack and typically expand from 29 inches to 42 inches.
Adjustable strap extensions, expand the length of the strap an additional 20 inches are available as an accessory. Here is a photograph of a rear strap of a security waist pack with the outer material cut away. Two flexible stainless steel cables can be seen and are woven into the sides of the strap with double stitching.

Zipper Security Lock Protects the Contents of the Main Compartment

The below security waist packs feature two various types of zipper locks. The Daymaker brand features a zipper security catch which locks the zipper pull in place. This zipper security catch secures the top zippered compartment, as well as the secondary "organizational pocket on an optional model.
When used, this feature requires two hands to open the pack. Easy for the wearer to do, but extremely difficult, if not impossible, for even the most experienced pickpocket to open without getting caught.

Some security waist pack companies use a physical lock to secure the main compartment which allows the fanny pack's main compartment to be locked. This locking feature also allows you to lock your fanny pack to a secure object if needed- a unique feature.

Rear Buckle Security Wrap

Both security fanny pack companies incorporate a special Velcro® wrapper that covers the strap buckle. This feature prevents the buckle from being easily opened from behind (a big flaw in the cheaper non-security waist packs.
To learn more about security waist packs, visit this page for an extensive review of 6 unique security fanny packs, as well as a variety of videos of each of these fanny packs, click here.
Waterproof Fanny Packs
When travelers visit the beach or a community pool area in a foreign country (or even locally here in the states), many have lost their wallet, car keys, passport, and other valuables. You would be amazed with the amount of theft that occur to travelers at beaches and even hotel pools around the world. Several devices are available that allow you to protect your valuables when in the water. To learn more about water proof pouches and other waterproof products to help keep your valuables safe from water damage, as well as theft, click here for more information.
RFID Wallets and why you need to block RFID signals from your Credit Cards
RFID chips are becoming a part of our lives. RFID stands for Radio Frequency Identification Devices and they are tiny passive radio transmitters that are placed in products to prevent theft and are now in identification cards, credit cards, and passports to speed up transactions. These passive transmitters lie dormant until activated by a nearby RFID reader that sends a strong radio current that powers them on and makes them send out their signal.
The double bars that you walk through at the department store are RFID readers and they send out a strong signal that makes the chips "speak." About 100 million credit cards now have this contact less technology embedded into them. However, over the next 2-3 years, it is expected that credit card issuers will replace every single magnetic stripe credit and debit card with a new contact less smart card.
In the same way gas stations have installed lower powered versions on gas pumps to read quick pay gas cards. Newly issued credit cards, passports and other Ids have embedded RFID chips. Identity theft via RFID readers is prevalent and growing. Some readers can read your personal information up to 10 ft. away. You can protect your personal data with the use of RFID blocking wallets and RFID blocking passport covers. These items contain a metal fiber mesh that makes a "cage" around the chip that radio waves cannot penetrate.
With the advent of this new technology, a new version of wallet theft is facing travelers today - it's called RFID Electronic Pickpocketing. Credit card companies are beginning to install RFID chips in new credit cards which emits your card's account number, expiration date and other information.
That's where electronic pickpocketing comes into play. In order to stop thieves from using a simple handheld device and passing it over your purse or wallet in your back pocket and capturing your credit card's information, new wallets and purses feature built-in RFID blocking technology which can stop this new form of ID theft from your wallet or purse. You can find several types of RFID blocking wallets.
For men you can find leather and ballistic nylon RFID wallets, as well as front pocket RFID wallets. For women, they also have RFID blocking women's wallets. RFID blocking purses, as well as RFID blocking handbags. Additionally, several RFID blocking passport covers can also be found that provide the same RFID blocking security benefits as the wallets above. The following is a link to several types of RFID blocking wallets, passport covers, and travel bags.
Before you Go - Watch Real Pickpocket Videos and Read Up on Pickpocket Scams
Before you leave on your trip, spend some time understanding how pickpockets operate so you can "see them coming" before they get your wallet. To help travelers research this topic, one of the best solutions is to watch real videos of "pickpocket in-action." A variety of these videos have been assembled on at www.corporatetravelsafety.com which is a unique website features pickpocket avoidance information.