Select a topic >

RFID blocking gear such as a wallet, bag or purse is your best defense against electronic pickpockets which can steal your identity without you even be aware of it. These tech savvy thieves use handheld readers to steal your personal information contained in RFID chips embedded in your credit cards, passports and ID cards. Protect your identity by storing and carrying your RFID enabled cards in RFID blocking wallets, or sleeves for peace of mind.
Newly issued credit cards and passports have RFID chips embedded within the cards. The chips are are designed to transmit an electronic signal allowing a nearby card reader to "read" the credit card or passport's important information, without having to take the card out of the wallet or passport case.
RFID stands for Radio Frequency Identification Devices and they are tiny passive radio transmitters that are placed in products to prevent theft and now in identification cards and credit cards to speed up transactions.
These passive transmitters lie dormant until activated by a nearby RFID reader that sends a strong radio current that powers them on and makes them send out their signal.
The double bars that you walk through at the department store are RFID readers and they send out a strong signal that makes the chips "speak". About 100 million credit cards now have this contact less technology embedded into them. However, over the next 2-3 years, it is expected that credit card issuers will replace every single magnetic stripe credit and debit card with a new contact less smart card.
Why should I be concerned about blocking RFID signals?
In the same way gas stations have installed lower powered versions on gas pumps to read quick pay gas cards. Newly issued credit cards, passports and other Ids have embedded RFID chips. Identity theft via RFID readers is prevalent and growing. Some readers can read your personal information up to 10 feet away. Therefore you should protect your personal data with the use of RFID blocking wallets and RFID blocking passport covers, especially when traveling. These items contain a metal fiber mesh that makes a "cage" around the chip blocking rogue readers from accessing your personal information.
Besides credit cards, RFID chips can be found in many drivers and identification cards, as well as all newly issued passports and passport cards including:
New contactless credit cards
US Passport Cards
Enhanced Driver's Licenses such as Washington, Michigan, New York, plus more
Many transit cards such as the DC Metro and Boston Charlie™ card
sQuid cards used in Europe
To stop thieves from using a simple handheld device and passing it over your purse or wallet( even while in your pocket) and capturing your credit card's information today's new wallets and purses feature built-in RFID blocking technology which can stop this new form of ID theft from your wallet or purse. There's a style of RFID blocking credit card sleeve, wallet, bag or purse to meet everyone's style or need.
This RFID Wallet protects your identity by shielding your personal information from unauthorized RFID access to your personal information. The Travelon RFID Blocking Wallet is perfect for anyone who wants additional security for their credit cards and Passport ID Card! No longer just for travel this wallet protects your identity every day.
This protective RFID blocking wallet will not only organize your passport card, credit cards, and money, but it blocks unauthorized RFID readers from accessing your sensitive personal information embedded in debit and credit cards, as well.
It looks just like any other wallet, however, embedded inside the leather, is a RFID protective layer that prevents RFID scanners from accessing your cards' data. The wallet features 6 credit card slots and 2 separate compartments for currency.
The apparent benefits of RFID credit card transactions are convenience, speed and the elimination of employee contact with the card. However, an easily obtained hand-held skimmer or reader can hi-jack the information on a RF enabled card and use the information for fraudulent purposes.
That where the use of the RFID Blocking Wallet comes into play. By placing your RF enabled cards into this case, they are protected from being "hi-jacked" by an unauthorized person.
Does Your US Passport Contain the RFID Chip?
Since October 2006, the U.S. has been issuing only e-passports. While older passports are still valid, when they expire, they will be replaced with the new e-passport. The cover to the right is a photograph of what the new cover of the US e-passport which contains the RFID chip looks like. Note the logo on the bottom of the cover.
The above picture is the universal RFID
e-passport logo which is being used to identify passport locations which require e-passport scanning.
The following are the most popular wallets and bags which have RFID blocking technology as part of their design.
RFID Leather Women's Wallet and Checkbook Cover

Finding a fashionable women's RFID wallet has been difficult to find – until now. You can never be too careful when it comes to protecting your identity. But now you can rest a little easier knowing that your information will be safe when you use the RFID women's wallet and RFID checkbook cover. Simply tuck all of your credit cards, driver's license, or your U.S Passport or Passport Card into this wallet for instant protection.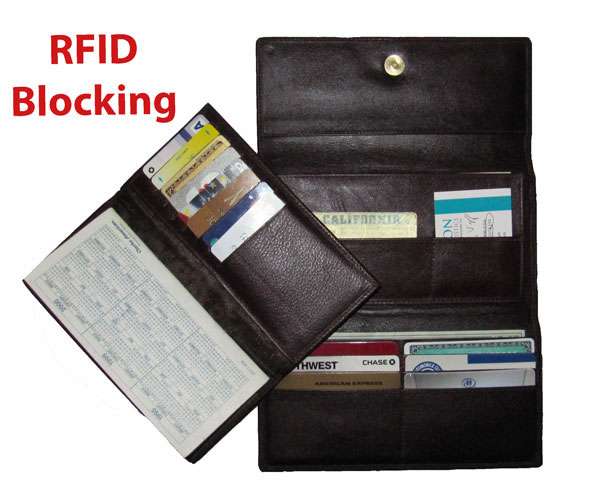 This exclusive 2-in-1 genuine leather RFID Ladies Wallet comes combined with a RFID wallet and a separate checkbook and credit card carrier. Use separately or together. The Leather RFID Women's Wallet & Checkbook Cover is perfect for anyone who wants to provide additional security to their electronic chipped credit cards and/or RFID Passport ID Card from unauthorized RFID readers.
The women's wallet and checkbook cover is made from genuine full grain, 100% pure cowhide rich leather. The leather features peerless workmanship which is the result of it being drum dyed, tanned, and hand rubbed in order to produce a smooth, soft, rich look and feel. The high quality workmanship of the leather RFID Women's wallet will give you years of everyday use.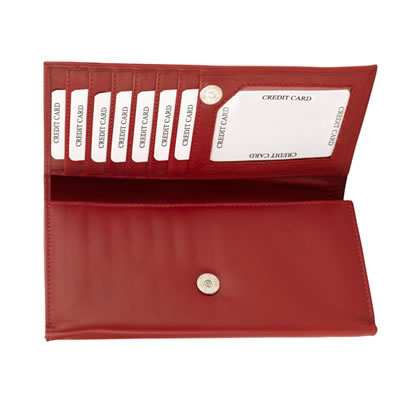 Several other versions of Ladies RFID Wallets can be found, including a unique product that allows you to place an RFID insert into your existing purse or handbag that does not have RFID blocking material embedded in the material
.
Travelon RFID Blocking Purse Organizer
This Purse Organizer makes your life easier and more organized with its many pockets and keeps your identity secure. The Travelon RFID Blocking Purse Organizer features 9 pockets to keep everything where you can easily find it..
When you need to change purses, simply remove the RFID Blocking Purse Organizer from one purse and put it in another, that's it. Simply lift out the purse organizer from one bag and place in another, no awkward Velcro straps to adjust like other purse organizers
Place your favorite wallet inside this lightweight RFID blocking purse organizer and you have instant security.
The RFID blocking secret is built into the fabric of the purse organizer. While the micro fiber material looks like any other material, in between the inside and outside layers is a special layer of RFID blocking material. This RFID blocking material is a is a metallic fiber weave known as a "Faraday Cage" which blocks RFID radio waves from reaching your RFID tagged cards.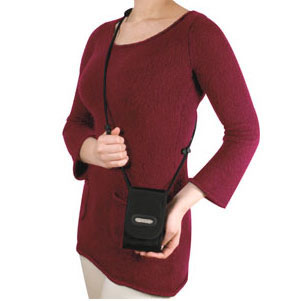 RFID Travel Wallet - Anti-Theft Features
The Anti-Theft RFID Travel Wallet is ideal for carrying your digital camera, smart phone or mp3 player plus credit cards and cash while sightseeing and exploring. Inner organizational compartments provide a functional yet compact way of keeping your valuable digital gear secure.
While this travel wallet provides anti-theft features, is also includes RFID blocking, as well as a front flap that secures with lateral lock to protect your wallet's contents from pickpockets. The interior of the Anti-Theft RFID Travel wallet also includes compartments for bills, coins and credit cards. It even fits today's larger smart phones, including iPhones and larger Android devices.
You can wear this RFID Travel Wallet three ways!
Hanging from your shoulder adjusting the strap to the perfect length.
Across your body, adjust the strap longer so you can wear it bandoleer style.
On your belt, slide the pouch onto your belt with the sleeve on the back side of the bag.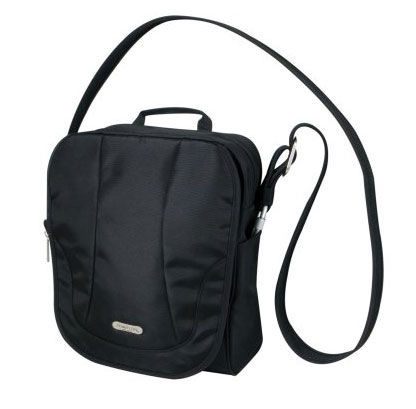 RFID Blocking Travel Tour Bag
The Travelon's Anti-Theft Tour Bag with RFID Protection is a great top-loading travel bag with a front flap. Its main locking compartment holds and protects your valuables when out for the day, the padded main compartment also holds and secures most tablets such as iPads, Galaxy Tabs, as well as other similar sized tablets.
What makes this travel security tour bag different from other security travel bags is that is also includes RFID shielding in the bag's organizer pocket, so that your electronic enabled credit cards and passport information is safe from not just slick fingered pickpockets, but electronic pickpockets as well.
Ogon RFID Blocking Aluminum Card Case
The original aluminum wallet, not a cheap imitation. The Ogon RFID Card Wallet is designed for either men or women. It features a sleek modern design that is both compact and lightweight, and is capped off with a brushed anodized aluminum material which gives it a modern techno look.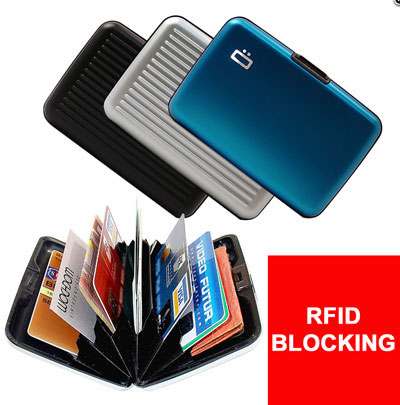 The aluminum casing protects your cards from being read by radio frequency identification (RFID) technology. The new and revolutionary concept from Sweden that allows you to carry the essentials: credit cards, identity card, and cash (folded up). This wallet offers maximum protection in a compact aluminum shell that combines resistance and lightness.
The wallet more modern design provides the same RFID blocking function as other RFID blocking wallets, yet is easily slips into a man's or women's shirt/pants pocket, or is easily found in a purse.
If you're looking for something durable, simple, eye-catching, and safe, the OGON RFID Blocking Aluminum Wallet may be the one for you.
The Travelon RFID Cash and Card Sleeve is a unique RFID blocking wallet that provides quick access to your credit cards and identification. Minimalist in design, the RFID Cash and Card Sleeve has a window on the outside of the wallet, in order to provide quick visual access to your driver's license or identification card.
It also provides storage for your RFID featured credit cards or Passport ID card with its three card slots, slip pocket, ID window, as well as an internal pocket for bills and receipts.
RFID Credit Cards and Passport Sleeves
RFID Sleeves are designed to hold individual credit or ID cards. Simply place your credit card in the wafer thin RFID protection sleeve - which is slim enough that you can put your shielded card right back in your wallet where you normally keep it.
RFID Sleeves are made of a durable Tyvek fiber bond exterior combined with the patented RFID shielding alloy lined card sleeve technology that blocks radio waves and prevents scanners from reading the chip inside your cards and passport. These are the least expensive way to protect your RFID enabled credit cards and passport cards.
RFID Blocking Scanner Guard Cards


The Scanner Guard Card is half as thick as a standard credit card so it will not increase the size of your wallet. It is very flexible and durable. This clever design turns your regular wallet into an RFID blocking wallet.
Thinner than a credit card, they block the RFID signal from your credit cards. The Scanner Guard Card is composed of a mixture of metals that disrupt the scanner from reading the RFID signals.

To use, simply add two Scanner Guard Cards into a wallet, credit card holder or clip as shown in the pictures below to block all unwanted RFID Scanners. By using these cards you can protect your RFID enabled credit and ID cards while they are inside your exisiting non- RFID protected wallet.